Custom Laser Engraving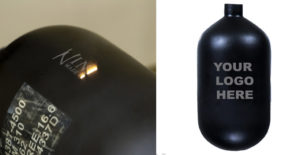 Ninja now offers custom laser engraving. Paintball Mechanix offers this service to its customers, through Ninja Paintball.
You have the ability to use a 600 pixels x 600 pixels image on your bottle. (Laser engraves in to a single Gray Color) The cost break down works like this:
$35 + For the First Bottle
$25 One Time Setup Fee
$15 Extra Per Bottle After the first.
If you only have one bottle you want engraved, you can just check out with the SL2-68 or SL2-77. If you have a team or group that wants more than one tank, please complete the form listed below.
Custom Laser Engraving for Teams