Ninja Paintball has introduced a number of new products in the summer of 2017.
The SL series has been given an upgrade to the SL2 (SuperLite 2) series, weighing 3-4oz's less than the previous SL series tanks. The Ninja Grey Ghost Carbon Fiber tanks have been upgraded to the LITE Series, basically almost the same weight as the original SL. That means you can get a Ninja LITE 68ci Tank for $155! Even the translucent colors! WOW!
NEW COLORS!
Ninja Paintball has also introduced the new SAND color to the SL2-68, SL2-77 & SL2-90 tanks!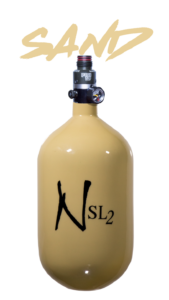 NEW COATING!
Ninja has also introduced their new tank coating – CERAKOTE. Cerakote is a very durable ceramic based coating, mainly used on automotive wheels & found to be used on firearms. Ninja is now offering this on The SL2-68 & SL2-77 bottles.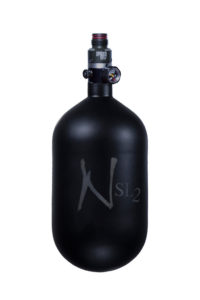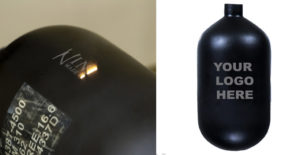 CUSTOM LASER ENGRAVING
Ninja now offers custom laser engraving. Paintball Mechanix offers this service to its customers, through Ninja Paintball. You have the ability to use a 600 pixels x 600 pixels image on your bottle. (Laser engraves in to a single Gray Color) The cost break down works like this:
$35 + For the First Bottle
$25 One Time Setup Fee
$15 Extra Per Bottle After the first.
Get started on your team's laser engraving here: Custom Tank Laser Engraving.